BIG BOOMER IN BEANTOWN:Firesign's latest Rhino release Boom Dot Bust has received several rave critical reviews in major publications including a lengthy article in the 10/24/99 edition of the Boston Globe.

THAT'S ENTERTAINMENT: CNN aired an interview clip with Firesign Theatre and Dennis Michael on Entertainment Today.


GETTING A HANDLE ON: Firesign called in on Alan Handleman's syndicated Sunday night radio call in show "East Coast Live" on 11/29 to talk turkey with fans. The event was also webcast. T. Rob Wyatt recorded the event in the studio and supplied Firezine with a CD of it for our archives. Thanks!

RUN FOR THE BORDERS: The Firesign Theatre made a rare LA disc signing appearance at Border's Books and Music on La Cienga 12/13/99. They started things off with a 20 minute question and answer session hosted by an enthused influenza infused Rhino staffer Thane Tierney to a crowded house. The lines were long as the fans cued up to get their copies of Boom Dot Bust and favorite Firesign relics autographed.

DVD DOA?: Rhino has delayed all of their projected audio DVD releases including Boom Dot Bust until further notice. It seems there is a problem with the copy guard code being broken by hackers, even before the playback machines have been manufactured! Some companies have released their units anyway causing some confusion in the industry. Until things settle out, we'll have to be satisfied with all of the currently available formats. The drop down video portion of Boom Dot Bust is finished. Proctor sent the Freditor a VHS copy that contains an MTV style animated still video of the "Billville Sound" and an interview with Proctor and Bergman.

ROSEY COVERAGE: On New Years Day Firesign Theatre performed an alternate coverage of the Rose Bowl Parade over the Pacifica radio network and webcast. Listeners were told to tune into the TV coverage and turn down the sound. Proctor and Bergman were in the studio of KPFK and Austin and Ossman phoned in their commentary.

TV OR NOT TV: Rhino's Andy Thomas has been working with the guys on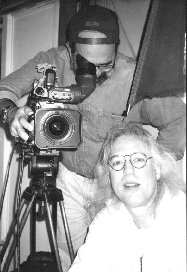 the ultimate Firesign Theatre video documentary "Weirdly Cool". Initially designed as a PBS fund raiser to be released in June, the projected 90 minute video will contain re-created in the studio performances of Firesign re-doing some of their classic scripts and also some archival footage, stills and recordings. The word was put out calling for rare FT artifacts. Particularly desired is the group's initial broadcast as the Oz Firesign Theatre from 11/17/66. If you have any rare tapes of this or any other vintage performances please contact us by mail PO 585 Hagerstown, MD 21741-0585 or e-mail firezine@intrepid.net or fax 1-301-791-0590.

GIVE US A BREAK: Proctor and Bergman joined Stan ("I'm Swedish not Jewish") Freberg on KSLX's C/Note show to promote their latest Rhino releases, "Boom Dot Bust" and "The Tip Of The Freberg" box set. Read our interview with Stan Freberg later in the issue.


JOINT APPEARANCE: David Ossman and Phil Proctor joined Harry Shearer and Woody Harrleson by passing their voices around in Ron Mann's feature documentary on the legislative history of marijuana entitled "Grass". It gets its U. S. premiere at the Southwest Film Festival held in Austin, TX, March 10-18. Ron Mann is the filmmaker who attempted to produce a documentary on Firesign several years ago.


ART MEETS LIFE: LA councilman-who-would-be-mayor Joel Wachs recently hired Peter Bergman to liven up one of his top priorities, creating a system of neighborhood councils throughout the city using computer technology to share vital information. Bergman's playing mayor P'nisnose, dealing with Firesign Theatre and communal living on "The Farm" in the 60s helped set him up for this position. Bergman: "That experience can be applied to the creation of neighborhood councils aimed at bringing residents together to tackle local problems. I've noticed that when people live within reach of each other, they have a tendency to share tasks, share information. I feel much happier when I live in a compound or a neighborhood, no matter how wired (by computer) I might be."

INVISIONARY: Noted high tech humorist Peter Bergman hosted the annual digital extravaganza NewMedia INVISION 99 Awards held at the W Hotel in San Francisco.

GIVE ME EXPERIENCE: David Ossman reports that he recently did and evening of radio plays at ACT. Currently he's working on a electricity display for a kiosk in the Experience Music Project in Seattle. The great Oss has come out from behind the curtain for a Wizard of Oz project designed for the LA Children's Museum. His wife Judith is about to shoot pilot material for "Sparky's Space Station".

CAMPOON 2000: George Tirebiter will shortly be editorializing on Rhino's website www.rhino.com . Firezine intends to give fool coverage to the first Presidential campaign of the millennium to make sure that Tirebiter is pushed over the top, if not the edge.

TWIN TONES: "The Independent", a funny film featuring Phil Proctor and Melinda Peterson as the parents of Siamese twins, will make it's debut at this year's Aspen Comedy Festival Film Discovery Program 2/9-13.

A LITTLE CRABBY: Phil Proctor attended the 10th Anniversary screening of "Lobster Man From Mars" at the Silent Movie Theatre in LA. The sound was turned on for the film in which he had a major role. The Procster Man addressed the crowd along with writer / director Stanley Sheff and J-Men villain Machine Gun Kelly.

PANTS ON FIRE: Proctor plays the comic servant Tristan in the intricate rhyming Anteaus Production of "The Liar" at the Secret Rose Theater on Magnolia in the NoHo Arts District of LA on these dates, 2/ 6,12,13,20,25,27.

SQUIRLED AWAY:
The Rocky & Bullwinkle live animated feature with Proc in the TV sequence is scheduled to be released 6/30.

VOICE OVER WORKED: Phil Proctor has been flapping his lips like crazy for various Hollywood producers when he can fit them into his busy schedule. He received 4 offers in one day but was only able to accept one, the Disney direct to tape sequel "101 Dalmations: A Pup's Tale" voicing 'Sgt. Tibbs" the cat. Mr. Proctor writes: "By the way, I got my Disney script and Sgt. Tibbs gets some good screen time and several lines, mostly with Colonel, the silly old Sheep dog, voiced by Jim "Taz and Pooh" Cummings." (The Freditor sent him some of his famous catnip to help inspire his performance.) "I will be filming a small part (the Oregon Delegate) in a TNT Movie for TV starring Faye Dunaway and Tom Selleck. It's called "Washington Slept Here" and after participating in a "table read" with the entire cast, I can say it's a good and actually inspirational script that speaks out against lobbyists, corporations and "fat cats" ruining our Democracy. I also worked on "Law and Order - Special Victims Unit" where I got to speak a lot of Russian for their "Russia With Love" episode and even to sing "Moscow Nights" with a cute ex-Commie named Yelena, which will be played in the background in NYC "Moscow restaurant" scene. Fun. I will also be working again as Howard, the dad of the twins, Phil and Lil, for another season of "Rugrats", and adding more voices to Disney's "Atlantis". My darling wife Melinda, shot another national TV spot for "Hotjobs.com", playing a Brit assistant. At the end of the shoot the director wanted her to say a sexy line to her "boss" for his reel, and Mellie came up with "Would you like to smell my knickers?" (He did 10 takes)."